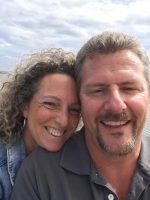 We were high school sweethearts and married in 1983. God has blessed us with six wonderful children and six grandchildren (so far).
Our relationship with God has always been the foundation of our lives and marriage. We give him all the glory for the strength of our love and the grace to persevere and conquer every trial we have been through.
Our desire is to teach Christians the Word of God without the trappings of man-made religion. We believe strongly that God wants a personal relationship with his children and a knowledge of the Word of God is essential to understanding that relationship.
We have been trained, licensed and ordained by Faith Covenant Ministries and placed as the leaders of Bayshore Fellowship to give God's children the tools they need to develop their relationship with their Heavenly Father, to live a life that brings Glory to him while on this earth, and to develop healthy relationships with their families and friends.